Finishing
Often times, finishing is the most stressful part of the mosaic process, especially for the new mosaicist. Up to this point, most of your work can be corrected and adjusted. Don't like a color or a shape? Pull it off and replace it. But once you finish and mount your mosaic, that's it. You typically cannot go back and easily fix things. Below we have presented some insights into the finishing process. If you are new to mosaics and have questions, or even if you have been working with mosaics for a long time and have questions, feel free to ask us on our Contact page. If we don't know the answer, we can almost always point you in the right direction.
Installation
Some mosaics are created directly on the substrate so installation is not an issue. But if you are using mesh or the indirect/reverse method, you will need to adhere your mosaic to the substrate.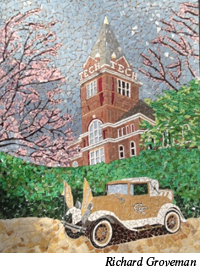 For small, indoor mosaics (less than a square foot) made using mesh, this can be done by brushing Weldbond onto the substrate and simply laying down the mosaic.
For larger mosaics and those made with the reverse method use ceramic tile mastic or thinset. Remember the reverse method produces a flat frontside surface so the tile thickness variations show up on the backside. A thicker adhesive is necessary to make up for the surface variations.
For indoor installations, ceramic tile mastic can be used. For outdoor installations and floor installations, always use a thinset product. Thinset cures through a chemical and thermodynamic process - this is why it is waterproof.
For floor installations and in freeze/thaw conditions, be sure your thinset has an elastomeric additive, for example Keralastic. This provides some flexibility in the bond and will prevent cracking from inevitable shifts in the flooring or outdoor substrate.
If you are installing stone, you need to consider the color of the thinset. Stone is porous to varying degrees and, over time it can absorb the cement color, causing staining. For this reason, the Tile Council of North America recommends using white thinset with light-colored marbles, onyx and limestone. For Italian stones this is particularly true in the case of some of the more transparent and crystalline stones including "Bianco Statuario", Rosa Portugallo Salmone and Aurora", Bianco Cristallino", and "Honey Onyx". Not only are these stones more porous but they are more transparent and having grey thinset behind them can show through slightly and dull the true color of the stone.
However, if there is any possibility that the thinset will be visible when the piece is done (almost always the case in the interstices of an un-grouted stone piece), you need to keep in mind the optical effect in which light colors come forward and dark colors recede. With white thinset, if any thinset is visible, the first thing you will end up seeing in the dark areas of your mosaic is the white thinset standing out more than the actual mosaic tesserae.
For mosaics that are made up of consistently darker colored tesserae, use gray thinset. If all of your tesserae are white to light colors, then use white thinset. And if a mix of colors (like most mosaics), you may need to use both.
With all installations, be aware of the depth of your adhesive so that when you do apply the mosaic, you don't get oozing through the groutlines that you later need to clean up. To check for thickness, use a toothpick or similar item to poke into the adhesive and measure the depth of the adhesive.
Framing
In many cases, a mosaic should be contained within a frame, otherwise, the tesserae will pop off at the edges. The frame may be a wood or metal frame or simply an area filled in with cement surrounding the mosaic.
Plan your framing ahead of time. In particular, are you plannng to use the frame for mounting your hangers or are you using the mosaic substrate? If you are using a pre-made frame, make sure your mosaic fits in the frame, not just from a size perspective but also a layout perspective. You don't want your mosaic lost in a frame too big or squeezed into a frame too small.
Cleaning and Sealing
Once your mosaic is mounted and frame, you need to clean it. Remove any adhesive that may have dried on the surface with a pick and tweezers. Its almost always better to let the adhesive dry and then remove it as opposed to removing it when it is still wet. Wet adhesive can smear into a thin layer that is difficult to completely remove.
During the cleaning process, use a soft brush to remove any debris.
To seal or not to seal? Since it is vitreous glass, smalti does not need to be sealed. Stone however does need to be sealed to protect it from staining. When you seal stone, in most cases, the color will be enhanced. There are several different products available that color enhance to different levels. We suggest you test a small sample before committing a sealer to your entire mosaic. It is a good idea to reapply stone sealer one a periodic basis (one or twice a year) particularly if the mosaic is outdoors.
Grouting
Wall mosaics are usually not grouted because their beauty lies in the uneven aspect of their surface. Floor mosaics are often times grouted to protect from moisture and dirt getting into the gaps between the tesserae. A few considerations for grouting:
Smalti can have bubbles and pits in the surface. When you apply the grout, it will get trapped in these areas. It is your artistic choice as to how much you want to clean out the grout.
Stone should always be sealed before grouting. If you do not seal the stone, it can become discolored by the grout.
Once you grout, you cannot go back so it is important to do things correctly. If you have any questions about grouting, don't hesistate to call us for advice and suggestions.
Here is a very informative video from Karen Silton that covers the complete grouting process from start to finish. You can also visit Karen's website, MosaicMorphosis.
Sanded vs. Non-Sanded Grout
The manufacturer's instructions for grout typically say to use sanded grout if your grout line is 1/8" or larger, use non-sanded grout if the grout line is 1/8" or smaller. This is for ceramic tile installs where the tile is smooth and regular. The resulting grout line looks like it has been caulked. With mosaics made from handcut tiles, you are counting on surface variations to add texture to your piece. We recommend you use non-sanded grout only for grout lines 1/16" or smaller. And better yet, you can mix sanded and non-sanded grout. So if you grout lines are very small, use a 50-50 mix.
Long Term Care and Maintenance
Mosaics made with smalti and no grout require little to no maintenance. You can wipe with a dry cloth if dust has accumulated. In some environments, such as a kitchen or outdoors where there is smog and other pollutants, an oil-based film might accumulate. To clean, we recommend:
Use clean water mixed with a mild soap or for a more organic solution you can use vinegar. Place the mixture in either a bucket or spray bottle and thoroughly rinse the tile surface.
Leave the liquid mixture 5 to 10 minutes to settle on the glass tile and gently sponge to remove any excess dirt. Rinse the glass tile surface well from any soap or chemical residue with plenty of water.
Last but not least is to fully dry out the surface to avoid spots of water and potential mildew.
If dust or direct has accumulated in the interstices, you can use compressed air to blow out. In doing so, be careful of the air pressure. If there is a tile with borderline adhesion, it can be blown loose by the blast of air.
Mosaics made with stone or those that include grout require special care as they must be periodically sealed and cleaning solutions can discolor or interact chemically with the stone or grout. For the stone, you should test any cleaning solution on a small area first. For the grout, follow the manufacturer's instructions. In most cases, as a minimum, a sealer will be recommended to prevent water from penetrating the grout which can lead to cracking, especially in freeze/thaw conditions.