Filato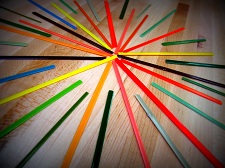 Filato (which translates to English as yarn or thread, plural is filati) is made from smalti that has been heated and pulled into thin noodles. The noodles are flat or round, about 12cm long, 2-6mm wide and 1-2mm thick.
Filato has a wide variety of applications, from micromosaic jewelry to the creation of intricate micromosaic "paintings".
We offer 48 different colors of filato in both flat and round as well as a wide variety of mixes. We also offer 28 different filato shapes which are traditionally used for micromosaic jewelry.
To cut filato, we recommend using a diamond edged micro file. A pair of tweezers is essential for handling and placing cut filato.
Commonly used adhesives for filato are Apoxie Sculpt/Paste and micromosaic putty. In addition to being an adhesive, both provide a base to support and hold the filato in place while the mosaic is being created. Apoxie products have a working time of 2-4 hours. Micromosaic putty, which is a mixture of linseed oil and chalk, provides a longer working time, up to 6 months. The micromosaic putty we sell is imported from Italy.
| | | | | | | |
| --- | --- | --- | --- | --- | --- | --- |
| For shaped filato, visit our Shaped Filato page | | To buy a sample board, click here | | Looking for a custom color? We can have any color on the smalti chart pulled as filato. Send us an email with your requirements. Typically takes 4-6 weeks for delivery. | | For tools and supplies, visit our micromosaic tools and supplies page |
Mixes (Flat and Round)

Flame

Ocean

Rainforest

Savannah

Storm

Wildflower

Broken Mix
| | | | | | | | |
| --- | --- | --- | --- | --- | --- | --- | --- |
| Blue | Green | Red | Brown | Gray | Dark Pink | Lilac | Harlequin |